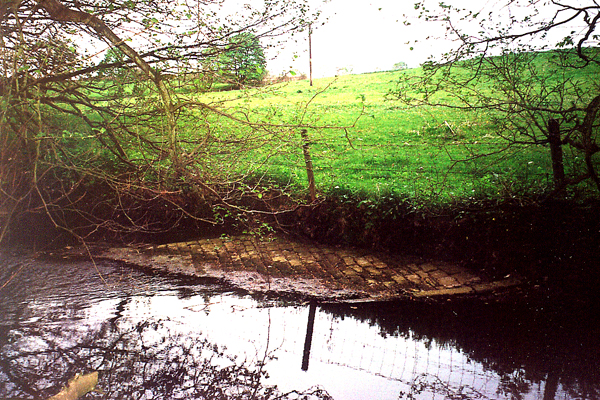 The pony would have been well schooled, familiar with its role and in the capable hands of an experienced horsewoman - but we'll probably never know what really caused the poor creature to bolt on that fateful 27th day of November, 1897.
Lady Alice, Countess of Lathom who was accompanied by Lady Leitrim and Lady Masoni was returning home to Lathom House from a shooting party at Dalton. She was driving the phaeton drawn by two ponies and as they entered the Lathom Estate via Green Lane the pony suddenly bolted as it was crossing the ford at the River Tawd.
The exact point of the crossing can still be seen today from the remains of the ford, although infill banking now hides the original approach level of Green Lane.(see picture above)
The carriage overturned into the water and Lady Alice was pinned underneath. On her eventual release she was taken back to Lathom House but was dead on arrival. Her two companions somehow survived the tragic accident.
Society was devastated by the news and a photograph taken at Lathom Chapel, shows floral tributes engulfing the vaults area where she now lies, a hint perhaps of the popularity of such a vibrant and lovable personality. Lady Alice Drive, Blythe Lane in Lathom, although not the actual location of the accident, is a gentle reminder today of the sad demise of the Countess of Lathom, Lady Alice.                            
Contributed by Pam Nanson